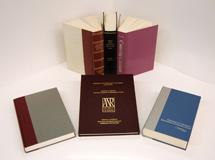 Skilled bookbinders can create attractive, beautifully crafted bindings that become a lifelong keepsake for that special book. Special bindings can be constructed from your choice of a variety of materials including genuine leathers, Bradford linens or embossed woven cloths.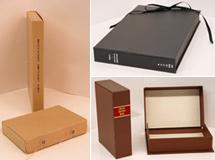 For rare and/or valuable books, a variety of special custom boxes or enclosures are available to provide attractive and functional protection.
To accommodate special awards or presentations, special presentation cases and slipcases can be constructed from genuine or imitation leathers and, upon request, lined with silk moiré.
Please contact us at (510) 665-2171. Our regular business hours are 7:00 AM to 3:00 PM, Monday through Friday