Library Bindery Services is a Certified Institutional member of the Library Binding Institute (LBI). Certified members must pass rigorous plant inspections to demonstrate that they possess the equipment, materials and staff expertise necessary to produce book bindings that meet the LBI/NISO National Standard for Library Binding.
The Library Bindery offers a variety of products and services to meet your book binding and related conservation needs.
PERIODICALS/SERIALS, CASE BOUND
Often referred to as "buckram, serials"; this is a high quality, durable and attractive binding for journals that are expected to receive high to moderate use. Also appropriate for thicker or heavier volumes. Both standard and custom collation services are available. Volumes may be rounded and backed to add text block stability. Covers are manufactured using cover boards and Group F buckram or C-1 book cloth. A variety of 
cloth colors
 are available. Cases are printed with UV cured inks in white or black per customer instructions.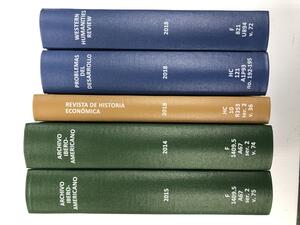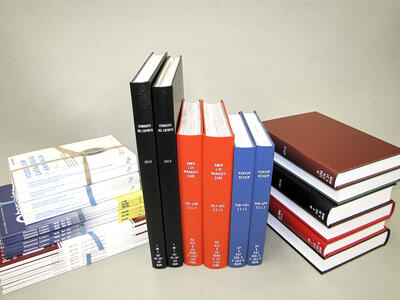 CLOTH MONOGRAPHS
Volumes previously bound as paperback books, or unbound material comprising a single volume, are rebound to create an attractive hard-cover book. Book covers are made from cover board and Group F buckram or C-1 book cloth. A variety of 
cloth colors
 are available. Printed white lettering is achieved with UV cured inks. Volumes over 1" may be rounded and backed to add text block stability.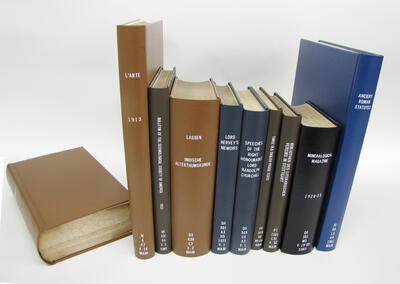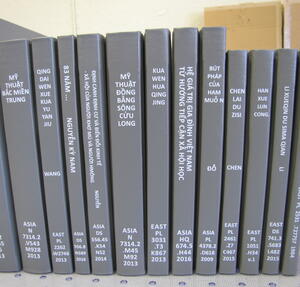 CLOTH REBINDS
Books which have fallen into disrepair are rebound into attractive, durable hardcover volumes. A variety of leaf attachment methods are available to rebind the failed text blocks. New covers are manufactured in a variety of 
cloth colors
.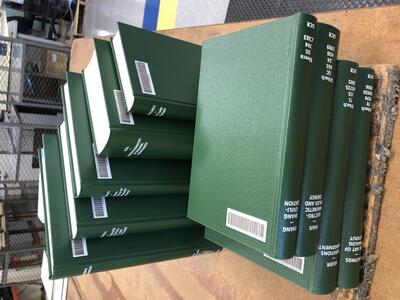 NEW CASE ONLY
With this conservation oriented method of binding, the original text block remains intact. Old, brittle glues and deteriorating spine reinforcement materials are carefully removed utilizing a controlled steam process. Conservation endpapers are attached to the text block by tipping or by sewing through the folds of the outermost signatures and then through the fold of the endpapers. This method retains 100% of the original binding margin, which will not diminish the "lay-flat" characteristics inherent with the book provided. Stock colors are provided and selected by the bindery. available.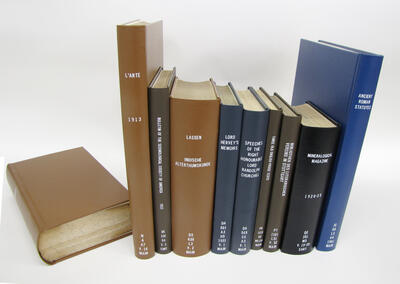 MYLAR (LAMINATED BOOK COVER)
A 1.7 mil clear laminating film is used in conjunction with the original illustrated cover of a paperback book to produce a hardcover or case bound volume. This greatly enhances the durability of the paperback book and significantly extends its useful life.
Mylar binding is for single text blocks and is most appropriate for books up to 1 ¼" thick and up to 14" in height. Original text blocks will be rebound using either the double fan adhesive or oversewing methods. Customers may elect to retain the original sewing on certain books with signatures upon request.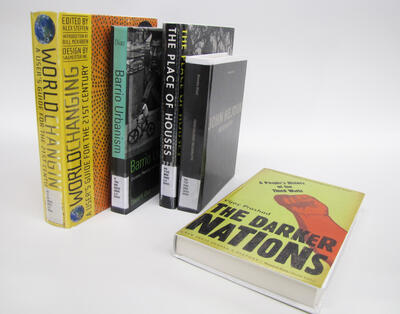 Mylar Laminated Book Cover
THESES/DISSERTATIONS, CASE BOUND
Group F Buckram book cloth and cover boards are used to produce an attractive hardcover book. A variety of 
cloth colors
 are available.
Volumes are foil stamped on the spine and/or front cover of each volume per customer instructions.  The University of California seal can be stamped onto the front cover upon request.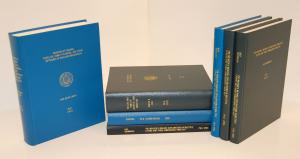 Thesis Dissertation - Case Bound
MUSIC
Music scores and parts are bound using leaf attachment methods that allow for material to "lay flat" so that it is easy to play. Music scores are bound into hard covers constructed of Group F buckram and cover boards. A variety of cloth colors are available. Pockets will be constructed for music parts that accompany the score. At the discretion of the customer, parts may remain unbound or bound into a flexible cover constructed of light weight cover board and "C" grade book cloth.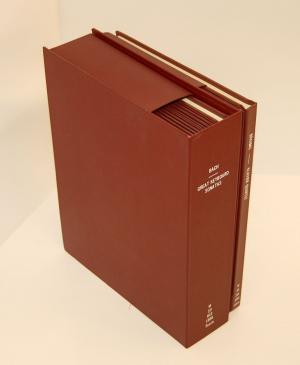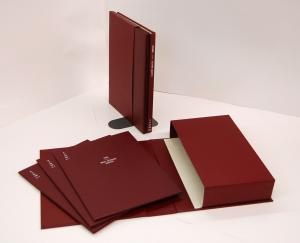 PAMPHLET BINDING

Appropriate for single items up to ½" thick where a traditional hardcover binding is not desired. Material is bound into a pre-fabricated pamphlet cover using stainless steel staples. Premade covers are constructed of high density, archival cover boards and C-1 book cloth. The clear front cover of the pre-made pamphlet cover allows for easy identification of the bound material.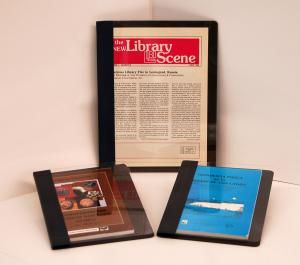 Pamphlet Binding
PHASE BOXES
This is a more economical form of custom enclosure. Boxes are constructed of archival board (color: tan) to dimensions supplied by the library. Brass buttons, acrylic washers and waxed thread are used to create fasteners that insure the box will close securely. Foil lettering of the spine is available upon request.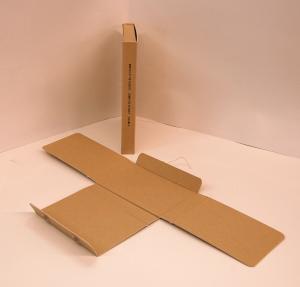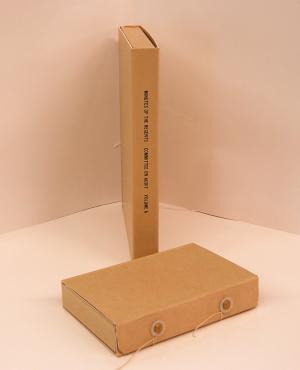 KASEMAKE ARCHIVAL BOXES
This is a more economical option than phase boxing. Utilizing a Kasemake box making machine, boxes are cut and scored to dimensions supplied by the library. Three basic designs are available: box & lid, flap portfolio, and clamshell. Boxes are constructed using either archival grade corrugated e-flute or tan colored board.
Note: Special designs, such as the boxes shown in the bottom image, are taken upon request.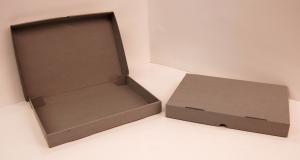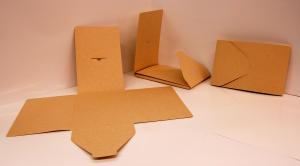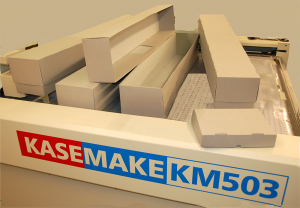 BRITTLE BOOK REPLACEMENT
The individual leaves of books printed on wood pulp paper often become brittle and discolored with age due to residual acidity or the presence of lignin found in some wood fibers used in the paper manufacturing process. This process scans the original text and reprints it onto acid free, lignin free paper which is then rebound into a new hardcover book.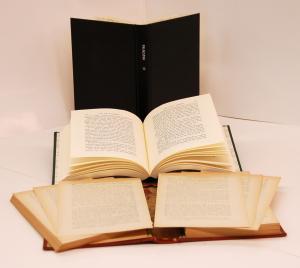 PRINT/BIND ON DEMAND
Books in quantities of one to 1,000 or more are manufactured to your specifications.
Services offered include:
            -Black and white printing
            -Color printing
            -Full color printed covers
            -Full color dust jackets
            -Cloth covers
            -Die stamping on cloth
            -headbands